5 Reasons Why IT Departments Love SOMAX CMMS
---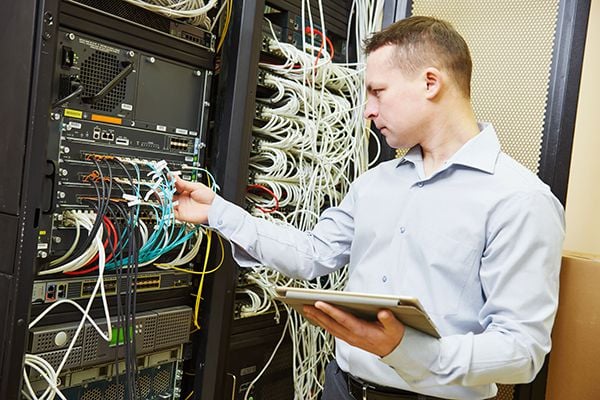 No matter your industry, no matter your company, no matter your size, if you have computers, you likely have an IT department. You know, those protectors of the passwords, doormen of the data, and sentries of the server. We all know the challenges that IT faces, and with the world continuously turning to SaaS (Software as a Service) companies to handle their enterprise application needs, IT has a tougher job than ever before. Data protection, security checks and user management are important pieces of the IT puzzle. These stalwarts of tech have an important job to do, and we recognize that. In fact, we love IT departments. They're some of our biggest fans because we work hard to make their job easier. Here's five reasons we feel the love from those friends of the firewall on a regular basis.


---
Reason 1: Zero Infrastructure
There is no software to setup, install, and maintain on client workstations; or worry over which operating system supports the application. SaaS (Software as a Services) based CMMS companies, like SOMAX are able to offer a subscription that can be purchased on a monthly, or yearly basis, which helps companies keep there costs down, and eliminates upfront investment. Although it is a departure from traditional methods of purchasing maintenance management software, a good SaaS company handles all the underlying infrastructure for you, saving everyone, including IT, time and money.

Reason 2: Worry-Free Upgrades
You can rest assured that you're organization will always have the most up to date software, saving your team from maintaining a labor-intensive patch and upgrade process. Also, there is no need for IT to add hardware, software, or bandwidth as the user base grows because your provider is handling all of those processes for you.

Reason 3: Security and backups
Top CMMS providers offer a high level of security and redundant instances in very secure data centers available in multiple locations. Companies like ours manage these centers as part of our core competencies, saving your IT staff time to work on the systems they know best. Also, solutions like ours remove the painstaking process and high cost of implementing an automated backup solution with traditional software. Your data is automatically backed up, providing additional security and peace of mind. You'll also received the added benefit of disaster recovery, so just in case something goes really wrong, you know your data is secured and ready to go as soon as you are.

Reason 4: Scalability and Integration
With a SaaS CMMS, there's no need to invest in more server capacity to increase your usability. It's easy to adjust your subscription to meet new needs when they arise. In most cases, you can simply add more users, accept your new monthly cost, and go about your business. SaaS CMMS products also have APIs to allow data requests to and from applications like ERP or CRM systems, making integrating your maintenance management software with those solutions simple. In cases where this type of integration is necessary, these options allow IT to assist in and oversee the project, rather than build and code a new system, which saves them valuable time, and money.

Reason 5: Saving Time and Money
We've said it a few times already, but IT is really happy when they help their organization save time and money through their efforts. A lot of people say "time is money" and with a modern CMMS, you can save both. Installation is as simple as having an internet connection and log in information. By allowing you to shift responsibility for your maintenance management software from your IT department to an experienced and dedicated company, you eliminate extra work hours and downtime associated with conventional software upgrades. Finally, Software as a Service companies spend their lives, day in and day out training and supporting customers in their products, which leads to a shorter learning curve when it comes to implementing enterprise-wide maintenance management software. This means quicker adoption and more effective use of these valuable solutions throughout your entire workforce.
To learn more visit www.somax.com.